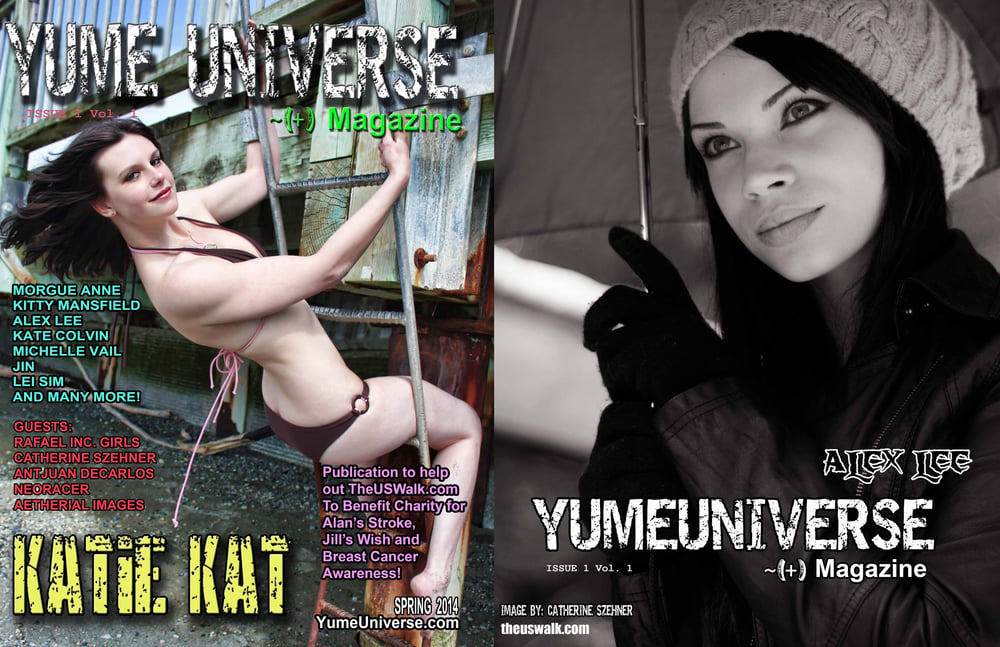 YUMEUNIVERSE.COM Magazine Issue #1 Spring 2014
$

19.95

/ On Sale
---
---
YumeUniverse.com Magazine Issue #1
Featuring Katie Kat And Alex Lee on Front and Back Cover Issue!
The Magazine Featuring :
Katie Kat
Alex Lee
Morgue Anne
Dani May Red
Kitty Mansfield
Michelle Vail
Devan Amerman
Stephanie Caton
Katie Colvin
Tigerlilly
MissErica Marie
Kandra Miller
Jenika Mimi Mao
Inga Carlson
Clarissa Kitzy Munoz
Kimberly O
Juanita
Torri Fry
Sheila Daligdig
Avery Gonzales
Brielle Monet
Shay Bella
Jin
Susan
SounLeip Sim
Crystal Connor
Ali Diaz
And a whole lot more!
GUEST Models and Photographers:
RAFAEL INC. GIRLS
CATHERINE SZEHNER
ANTJUAN DECARLOS
NEORACER
All Sales go to The Walk
www.theuswalk.com/
Desmond Robertson, Chad Almquist, Aussie Dogs Althena and Minerva will be heading out on a 13 state walk from Homestead , Florida. To Seattle, Wa.
Which will Benefit: Alan's Stroke, Easter Seals, Jill's Wish and Breast Cancer Awareness.
Allow 2 to 3 weeks for delivery.